Introducing the Dyad
What is the DYAD? Something that consists of two elements or parts.
The DYAD is made up of Scott Bowden and Tom Goddard. Both hail from the home of 4SHAW in Tasmania. The Team Manager is Dion Shaw (the founder and owner of 4SHAW). The DYAD specialises in MTB but also holds its own in CX as shown in 2014 when Scott and Tom both finished in top ten in the Under 23 National Champs.
Goal = to be the most approachable and professional MTB Team in Aus and have fun whilst doing so!
TOM GODDARD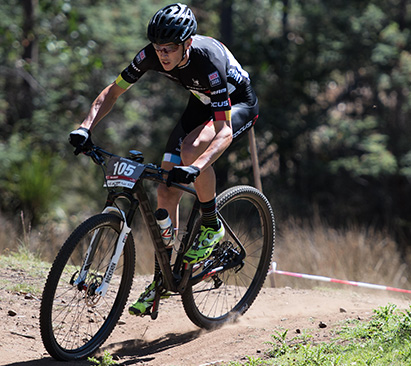 Hails from a farm south of Launceston Tasmania where he learnt the art of being a hard young man. The Gangly frame of this young man is capable of mixing it with the best in Aus in any of his chosen disciplines be it Road, MTB or CX. Has represented Australia twice now for MTB Orienteering where he did the green and gold proud. Tom is currently studying engineering in Adelaide, SA where he is showing the crew how much talent he has both academically and on the bike. Tom is the face of 4SHAW's marketing for 2013/14 where he can be seen grimacing in pain … he thrives on it!
SCOTT BOWDEN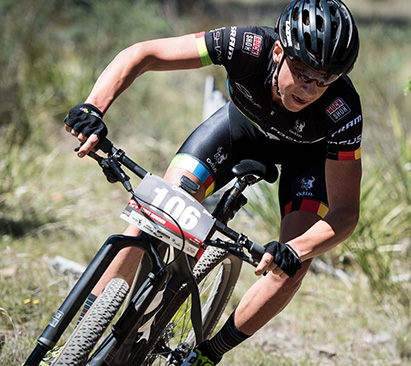 The Smiling assassin! Scott is a jack of all trades and master of all! From a XC Running background to racing BMX at state level and also Triathlons Scott turned his hand to MTB racing where he has shown he will be one of the best MTB racers in Aus gaining a spot of the Australian Junior Worlds Team. Not only is this young man talented on a bike he is also excelling if his academic results where he hopes to fulfil his dream and become a physiotherapist. Don't be fooled by his charm as on the bike, he is an animal.
Introducing the Deuce
What is the DEUCE? A deuce is a playing card with a rank of two. It is also a slang word for the number two. The 4SHAW Deuce is made up of Rebecca Locke and Naomi Williams. The Team Manager is Dion Shaw (the founder and owner of 4SHAW). These girls embody the spirit of 4SHAW, they race with passion and intensity, but are also well known and respected for being friendly and approachable that makes them a community favourite after the racing is done.
REBECCA LOCKE
Rebecca hails from the Central Coast of NSW and first started racing bikes in Triathlons. She was a successful junior who transitioned to the Elite level and whom represented Australia in both Triathlon and Duathlon. Her success in triathlon took her to the USA to compete where she raced for 3 seasons. After this stint in the USA, she decided it was time for a change and turned her focus to cycling. Since the move, she has been competing in both Road and Mountain Bike events. Rebecca loves being on the bike and testing herself, From XCO format al the way through to Marathon distances where she placed 3rd this year in the Australian championship. As well she has had success at the NRS (Australian National Road Series) and in various other events in both the Mountain bike and Road. Off the bike she is a fulltime fire fighter.
NAOMI WILLIAMS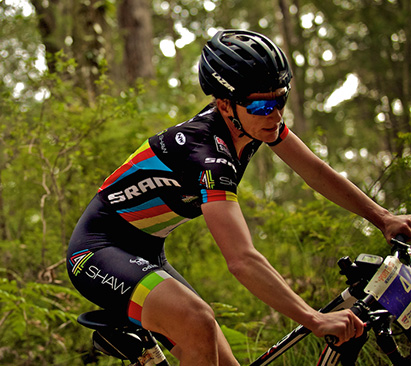 Naomi hails from Launceston Tasmania and first started racing BMX at the age of 9. She naturally progressed to racing road and track going on to be part of the Australian Institute of Sport and racing for Australia on the Woman's International Professional Road circuit for several years. She started racing Mountain bike in 2005, and continues to love racing and testing herself both on the Road and Mountain bike, She has had success in both fields in various race formats; from Criterium racing to solo 24hour formats. She is a remedial massage therapist and is very much the artistic side of the 4SHAW Deuce team, with an amazing eye for detail.
DION SHAW – TEAM MANAGER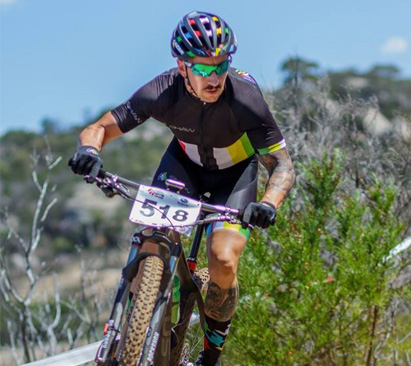 4SHAW was created by Dion Shaw. He lives, loves, breathes and dreams about cycling. He took out the 2013 Expert XC National Championships here in Australia. Or in other words – Dion walks the walk and he knows riding. He set out to build a brand which matches sharp styling with riding functionality that cannot be beaten.
Supporters